New products
Eyelash Gelremover. Remover...
All new products
On sale

High-quality eyelash lashes....

High-quality eyelash lashes. Used...
All sale products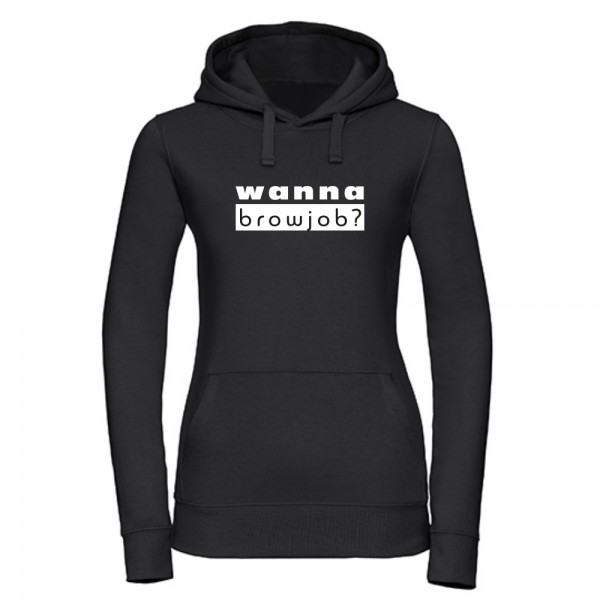 JoLash Fashion - Women's hoodie 'Wanna Browjob?'
Boring? It is certainly not for you if you look here. Do you like originality? A note of controversy will surely attract the eyes of others and leave a smile on their lips.
This is a unique sweatshirt for the professional freaks, make your colleagues envy you and men sign up for a new personalised treatment.
HERE you will find a sweatshirt for your man.
Colour: Black
Composition: 80% cotton / 20% polyester
Clothing dimensions
Chest size in cm: 
XS - 90cm; 
S - 96cm; 
M - 102cm; 
L - 108cm; 
XL - 114cm
Body length in cm: 
XS - 65,5cm; 
S - 67,5cm; 
M - 69,5cm; 
L - 71,5cm; 
XL - 73,5cm 
Your dimensions
You have in your chest:
from 77 to 82 cm - select XS
from 82 to 87 cm - select S
from 87 to 92 cm - select M
from 92 to 97 cm - select L
from 97 to 102 cm - select XL
High quality combed ring-spun cotton
Ring-spun combed cotton
Three-layer fabric
Reinforcement tape, herringbone fabric, on the neck
Two-ply hood with wide straps
Narrow sleeves
Ribs on the bottom of the blouse and on the sleeves
Kangaroo pocket with headphone opening
Covered seams at armpits, sleeve cuffs and at the bottom of the blouse
Customers who bought this product also bought: