New products

All new products
On sale


High-quality eyelash lashes....
All sale products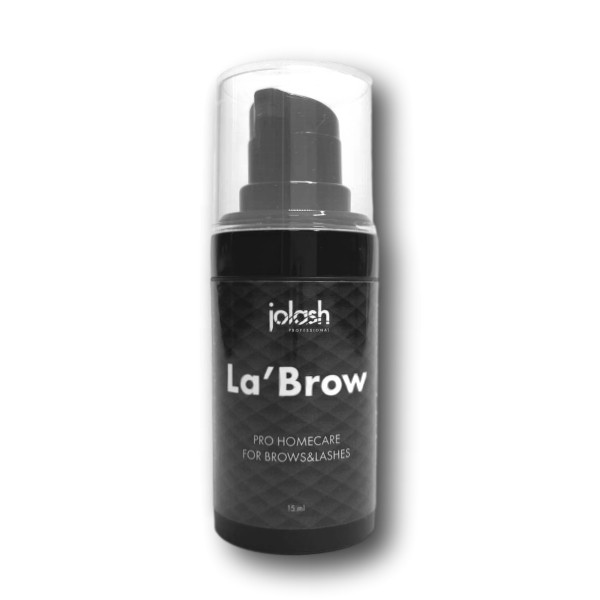 New
LA BROW - gel and conditioner for eyebrow and eyelash styling - PROFESSIONAL EDITION
Healthy eyebrows and eyelashes start right here! LA BROW is a multifunctional cosmetic that will replace the eyebrow gel and conditioner. Created with eyebrow styling and deep nourishment in mind, because eyebrows and eyelashes after chemical treatments, such as eyebrow lamination or eyelash lifting, are dry and require additional moisturizing.
It tames the hair and remains on the eyebrows all day long, remaining invisible, additionally contains substances that nourish the hair and have a soothing and soothing effect on the skin.
Apply the gel on the eyelashes or eyebrows and style them the way you like, wait a few moments until they dry and enjoy the effect all day long.
What is La'Brow doing?
It solves the three most important problems of every eyebrow and eyelash stylist performing the lamination treatment.
1. It minimizes reddening, peeling of the skin and the effect of dry hair after eyebrow lamination. Acting like a regenerating dressing.
2. Styles eyebrows for the day. It is easier for eyebrows to keep the brush and shape, without the appearance of oily skin or a feeling of tightness.
3. Deeply cares for eyelashes after permanent treatments, lifting and lamination. Thanks to everyday use, it can work wonders even on the most dry and damaged eyelashes.
The product is essential for each brow lamination treatment if you want to minimize the risk of the above-mentioned problems.
In addition, thanks to 3 different brushes, it allows you to use 3 ways to brush your eyebrows after lamination:
- Lush Bushy Brows
- Slim Contour Line
- Mild Natural Shape
Tames the so-called age eyebrows - a common problem in the environment of men (and more and more often women). But be careful, it's not a soap, it won't stick crazy eyebrows to your forehead, and it won't be like a ninja to overpower any unruly hair. However, it will handle flawlessly with flexible hair and any hair after lamination and lifting.
Thanks to the revolutionary, quickly absorbing formula, it will not leave a greasy film on the skin and hair. Each fringe can breathe a sigh of relief, no heavy substances will not spoil its fluffiness and flawless appearance.
La'Brow is a multi-cosmetic product with a wide range of uses - leave all other oils, balms, conditioners and take only one handy, elegant product that you can easily fit in your purse.
A short story about how La'Brow was born:
My name is La'Brow.
I was designed in Denmark and made in Poland.
I am the response of professionals to the needs of customers.
I will become your best friend who will look after your image every day, I take care of your complexion, I will not clog your pores, I will not leave a greasy film, I have anti-inflammatory, regenerating, soothing and nourishing properties.
I spent a year in the lab before I hit the market.
I will dry out as soon as you finish working on your eyebrows and eyelashes.
I am 100% vegan and plant extracts are my strength.
I act like a soothing skin dressing, nature helps me: ginkgo, licorice, field horsetail, witch hazel, ginseng; and supports science: pantanol and allantoin.
I will be your invisible makeup and I will stay with you for the whole day.
I will disappear whenever you want, just a little lukewarm water is enough.
I am handy, you can take me everywhere, even on vacation.
I am multifunctional - I will replace the gel, conditioner, balm or eyebrow cream for you.
I can't wait to be in your hands ...
You decide what will happen to me next :)
Composition:
AQUA, HYDROXYETHYL ACRYLATE/SODIUM ACRYLOYLDIMETHYL TAURATE COPOLYMER, GLYCERIN, PVP, ROSA DAMASCENA FLOWER WATER, PEG-40 HYDROGENATED CASTOR OIL, RICINUS COMMUNIS SEED OIL, HYDROLYZED PEA PROTEIN, HYDROLYZED VEGETABLE PROTEIN, EQUISETUM ARVENSE EXTRACT, GINKGO BILOBA LEAF EXTRACT, GLYCYRRHIZA GLABRA ROOT EXTRACT, HAMAMELIS VIRGINIANA LEAF EXTRACT, PANAX GINSENG ROOT EXTRACT, HYALURONIC ACID, PANTHENOL, ALLANTOIN, PANTOLACTONE, PROPYLENE GLYCOL, SODIUM ACRYLATE/SODIUM ACRYLOYDIMETHYL TAURATE COPOLYMER, DISODIUM EDTA, ISOHEXADECANE, POLYSORBATE 80, SORBITAN OLEATE, CITRIC ACID, SODIUM BENZOATE, POTASSIUM SORBATE, ETHYLHEXYLGLYCERIN, PHENOXYETHANOL
Customers who bought this product also bought: