New products

Eyelash Gelremover. Remover...
All new products
On sale

High-quality eyelash lashes....

High-quality eyelash lashes. Used...
All sale products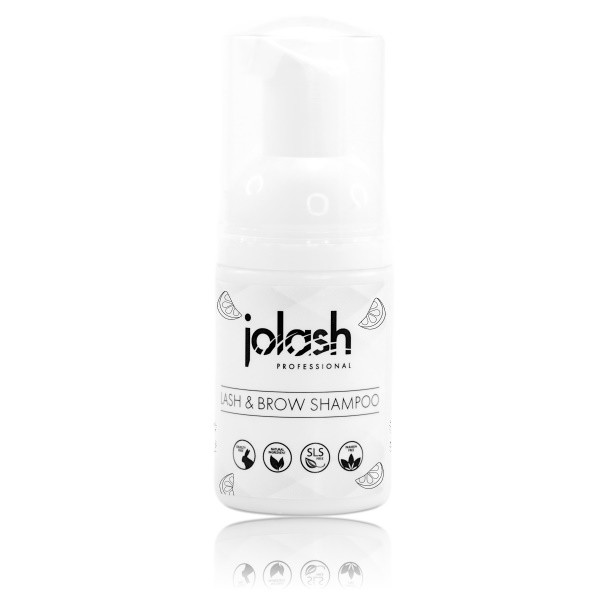 Lash&Brow Lash Shampoo 30 ml
Specially designed, unique formula, essential for hygiene during the Eyelash Extensions lash styling treatment and more. It effectively removes impurities within the lash roots such as remnants of make-up or sebum. Silky foam with a delicate fragrance will provide a comfortable feeling for your client. It does not irritate the eye area.
Capacity: 30ml
It is extremely important to maintain good and healthy hygiene around the eyes. Lash&Brow shampoo by JoLash is a product specially formulated for the needs of professional eyelash extension treatments, which gently cleanses lashes, makeup and dirt. It is gentle on the skin and contains nourishing extracts. It does not contain SLS (a foaming agent used, among others, in the production of brake fluids).
The shampoo contains 5 natural ingredients: 
Aloe Vera extract - aloe vera has antioxidant and antibacterial, moisturizing and soothing properties. Aloe vera is a humectant, i.e. a moisturizing substance which has the properties of retaining moisture in hair, and as we know, a well moisturized hair is the best basis for an adhesive.
Sweet orange peel extract has a soothing effect on the eye area. It is antiseptic, anti-inflammatory, soothing and soothing.
Rooibos leaf extract - fights free radicals, regenerates and tightens the skin. It has an antibacterial effect. It stimulates hair growth, smoothes and shines and strengthens the bulbs.
Extract from geranium leaves - helps to restore the natural pH of eyelashes and thus hydrates them. Additionally, it strengthens the structure of hair up to its fiber and supports cell growth - it helps to recycle dead cells and helps to regenerate new ones, so it has a great effect on the eyelash bulbs. It shows antibacterial properties.
Tea Tree Oil - a natural antibacterial, anti-inflammatory and disinfectant that prevents conjunctivitis and nematode development. Only a small amount of the product is enough to effectively clean the eye area.
Use: Shake well before use. Apply a small amount on the JoLash brush and spread it right next to the root of the lashes in gentle circular movements. Rinse with warm water and dry with a towel.
If you want to learn more about hygiene and care in eyelash styling - click HERE.
Customers who bought this product also bought:
The customer has rated the product but has not posted a review, or the review is pending moderation
Fenomenalny szampon! Pianka świetnie usuwa resztki makijażu, nie szczypie w oczy, a przy tym bezkonkurencyjna cena.