On sale

All sale products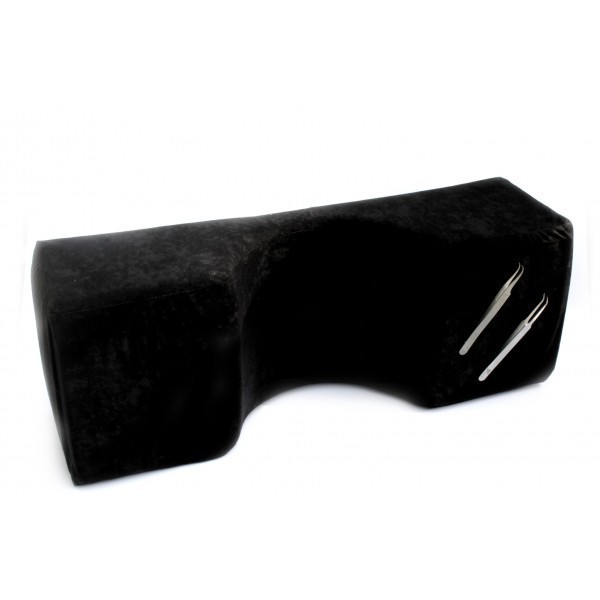 Stylist's Pillow Eyelash
Stylist's Pillow Eyelash
It is made of the highest quality foam, which perfectly stabilizes and places it under the head depending on the weight that rests on it. The clients lie in a position adapted for eyelash extensions, the head is tilted at least backwards and the cervical section of the spine is cushioned by a pillow. A pillow that every stylist must have!
The handy size of the pillow makes it ideal for any cosmetic bed and massage table. If you have a problem with cushioning your elbows while working, or if you have limited space for your eyelash pad, this pillow will improve the ergonomics of your workspace!
Our latest and most perfect pillow model has been shortened and simplified for even greater comfort during eyelash styling treatments. The sides of the pillow, which have been too long so far, have been shortened and raised so that clients don't have to climb on the pillow and you can lean your head and strain your neck over your eyelash pad. From now on, all rows of eyelashes are perfectly visible, and the cervical section of the client's spine is supported by 7cm of foam, ensuring comfort and stability.
We have replaced the soft and unstable memoryfoam material with high density foam, which is used to stabilise your forearms and to make your tools comfortable.
The 100% flat surface on the sides minimises the risk of the tools slipping and the adhesive floating. A high end solution is the possibility to buy a magnetic cushion stand, built under the cover. Thanks to it your tweezers will never land on the ground again!
Side pillow pockets give you additional handy space, ideal for hiding a nanomisters, windmills, mirrors or additional boxes with eyelashes, maybe you're just finishing another B 0.07 10mm strap and don't want to waste time bending over or turning around looking for an eyelash pack. In the side pockets you can also hide your phone or music carrier, which will be perfect for championships or mobile stylist's work, who can't afford the extra weight of a radio.
The pillow has a cover, which is made of durable microphase. The fabric should be washed in 30 degrees on a program designed for delicate fabrics.
Cover: microphase
Width: 20 cm Length: 55 cm, Height(thickness): 15 cm
Available colours are white and black
Joanna Siruga about the pillow:
When I first saw our new cushion model, it didn't convince me of the design or the material, because I haven't worked with that kind of foam before. I was looking at the reliability of memoryfoam, closing my eyes to the deliquescent sides of the previous cushion or tools that were not on a perfectly even surface anyway.
Today in my life there is no room for compromise, I want to produce and work only on uncompromising solutions and our cushion is just like that! The client doesn't have to climb up on a part of the pillow with her shoulders anymore so that we can see the lower rows of eyelashes perfectly, her head doesn't run sideways when she is fully relaxed and I don't have to chase drops of glue all over the lash holder because it lies perfectly even. The students with worse eyesight have stopped complaining about the distance to the lash holder and can easily see the distribution of the tufts at a comfortable distance. I haven't worked on a better pillow yet, which is a comfort not only for the stylist but also for the client.
Specific References
ean13

5904302833968
Customers who bought this product also bought:
Moje klientki i ja uwielbiamy tą poduszkę! Dla mnie jako stylistki sprawdza się idealnie, mam sporo miejsca na swoje przybory, a klientki chwalą sobie wygodę.